Sorry this event as been cancelled.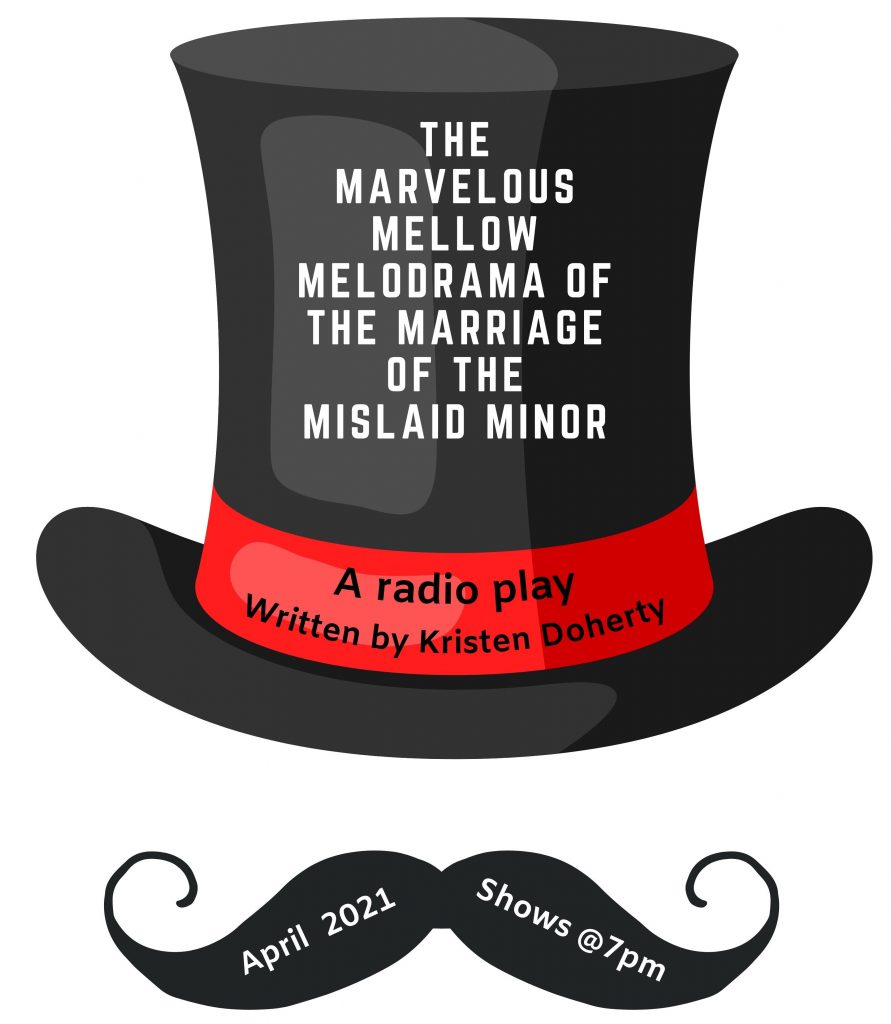 Here are the links to this weekend's Live YouTube premiere of our FREE COVID-19 spring play, "The Marvelous Mellow Melodrama of the Marriage of the Mislaid Minor" featuring the acting and artistic talents of 20 of our PHHS students. This year has challenged us to find creative ways to showcase our acting talent, so come see and hear the results! 
Saturday, April 17th 7pm show: https://youtu.be/h465y2WwN9s
Sunday, April 18th, 7pm show: https://youtu.be/_ltetMY8nqQ
Each premiere will have a LIVE CHAT feature where audience members can chime in and react to the action and even vote for who they think will rescue poor Penelope from the evil clutches of Derk Dastardly. This is a family-friendly show, (1-2 references to having a drink) and runs 60 minutes… a perfect reason to sit down and relax with popcorn or your preferred treat.
Kind hearted Penelope Kerslake has returned home from boarding school to tell her beloved father, the Major, of her impending marriage to her one true love, Gilroy Gladheart. Unfortunately, little does Penelope know that her father has already promised her hand to another, the villainous Derk Dastardly. Who will help save Penelope from this doomed fate and greasy man? Come meet the large cast of quirky characters who get involved as the plot twists and turns until the surprising ending.
Join us for this contemporary animated melodrama where you can cheer the hero and boo the villain. Audience members will have a chance to interact with the play and vote for who they believe will save Penelope. Watch schoolloop news for details!
Written by Kristen Doherty
Directed by Anna M. Woods
Animated Artwork by Elena Bandong and Hal Wong–
CAST OF CHARACTERS:
NARRATOR
Jose Flores-Jimenez
PENELOPE
Bella Moran
FELICITY
Phuong Pham
CYNTHIA
Marissa Vitale
MRS. SCRUBBER
Alyssa Pham
MAJOR KERSLAKE
Diego Rozo
GILROY GLADHEART
Miguel Valeroso
BUNTING
David Castro
DERK DASTARDLY
Amari Carter
SLUGLY
Jose Flores Jimenez

THUGLY
Vinh Truong
DOLLY
Alexis Hawkins
MOLLY
Teabella Pereira
POLLY
Colleen Craig
SARGE
Noah Anav
CHARLIE
Micheline Ma
FRANK
Allyson Jane Jimenez
GORDON
Diego Rozo
GUS
David Castro
CALLER
Kira Dinh
ANIMATED FRAME ARTISTS
Elena Bandong
Hal Wong

STUDENT DIRECTORS
Ella CookeSachi Sura